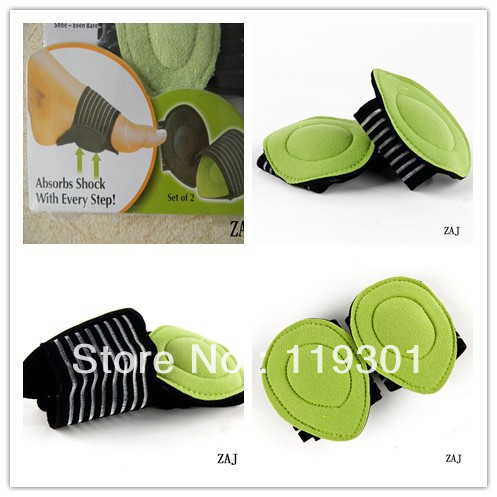 Overview
Plantar fasciosis is a foot condition characterized by heel pain and pain in your plantar fascia-a strong and dense connective tissue structure on the sole of your foot that supports your foot arch. This condition has historically been called plantar fasciitis because it was believed that plantar fascia inflammation was the principle underlying cause. Plantar fasciosis is a more accurate name for this condition because it involves degeneration-microtears, cell death-of your plantar fascia, not inflammation. Active men between the ages of 40 and 70 are most commonly affected by this health problem.
Causes
Each time we take a step forward, all of our body weight first rests on the heel of one foot. As our weight moves forward, the entire foot begins to bear the body's weight, and the foot flattens and this places a great deal of pressure and strain on the plantar fascia. There is very little elasticity to the plantar fascia, so as it stretches only slightly; it pulls on its attachment to the heel. If the foot is properly aligned this pull causes no problems. However, if the foot is "pronated" (the foot rolls outward at the ankle, causing a break down of the inner side of the shoe), the arch falls excessively, and this causes an abnormal stretching of the relatively inflexible plantar fascia, which in turn pulls abnormally hard on the heel. The same pathology occurs with "supination" (the rolling inward of the foot, causing a break down of the outer side of the shoe). Supinated feet are relatively in flexible; usually have a high arch, and a short or tight plantar fascia. Thus as weight is transferred from the heel to the remainder of the foot, the tight plantar fascia hardly stretches at all, and pulls with great force on its attachment to the heel.
Symptoms
The pain is more intense with your first steps out of bed in the morning or after sitting for a while. The reason for this is that during rest our muscles and ligaments tend to shorten and tighten up. The tightening of the plantar fascia means more traction on the ligament making the tissue even more sensitive. With sudden weight-bearing the tissue is being traumatised, resulting in a stabbing pain. After walking around for a while the ligament warms up, becomes a little bit more flexible and adapts itself, making the pain go way entirely or becoming more of a dull ache. However, after walking a long distance or standing for hours the pain will come back again. To prevent the sudden sharp pain in the morning or after sitting, it is important to give the feet a little warm-up first with some simple exercises. Also, any barefoot walking should be avoided, especially first thing in the morning, as this will damage to the plantar fascia tissue. Aparty from pain in the heel or symptoms may include a mild swelling under the heel. In addition, heel pain is often associated with tightness in the calf muscles. Tight calf muscles are a major contributing factor to Plantar Fasciitis.
Diagnosis
Your GP or podiatrist (a healthcare professional who specialises in foot care) may be able to diagnose the cause of your heel pain by asking about your symptoms and examining your heel and foot. You will usually only need further tests if you have additional symptoms that suggest the cause of your heel pain is not inflammation, such as numbness or a tingling sensation in your foot, this could be a sign of nerve damage in your feet and legs (peripheral neuropathy) your foot feels hot and you have a high temperature (fever) of 38C (100.4F) or above - these could be signs of a bone infection, you have stiffness and swelling in your heel, this could be a sign of arthritis. Possible further tests may include blood tests, X-rays - where small doses of radiation are used to detect problems with your bones and tissues, a magnetic resonance imaging (MRI) scan or ultrasound scan, which are more detailed scans.
Non Surgical Treatment
Treatment for plantar fasciitis includes medication, physical therapy, shock wave therapy, or surgery. Nonsteroidal anti-inflammatory drugs (NSAIDs) such as ibuprofen and naproxen are used to treat the inflammation and pain of plantar fasciitis, but they won't cure the condition. Corticosteroids can also be used to ease pain and reduce inflammation. Corticosteroids are applied either as a topical solution in conjunction with a non-painful electric current or through injections to the affected area.
Surgical Treatment
Surgery may be considered in very difficult cases. Surgery is usually only advised if your pain has not eased after 12 months despite other treatments. The operation involves separating your plantar fascia from where it connects to the bone; this is called a plantar fascia release. It may also involve removal of a spur on the calcaneum if one is present. Surgery is not always successful. It can cause complications in some people so it should be considered as a last resort. Complications may include infection, increased pain, injury to nearby nerves, or rupture of the plantar fascia.
Prevention
You can help to prevent plantar fasciitis by maintaining a healthy weight, by warming up before participating in sports and by wearing shoes that support the arch and cushion the heel. In people who are prone to episodes of plantar fasciitis, exercises that stretch the heel cord (known as the Achilles tendon) and the plantar fascia may help to prevent plantar fasciitis from returning. Ice massage also can be used on the bottom of the foot after stressful athletic activities. It is possible that strict control of blood sugar will prevent plantar fasciitis in people with diabetes, although this has not been proven.